Ceramics
Burnt Earth Designs
Take the elements of the earth, fire them with fertile imagination and you get Burnt Earth Designs.
Hand crafted and designed in Zimbabwe, these ceramics are available exclusively in Australia through Kumusha Gallery.
Raw sienna, burnt umber, soft satin white. Wildfire orange. Patterns and symbols.
A kaleidoscope of contrasts and colours brought to life in ceramics that are as individual as you are. Dramatic. Definitive. Unique.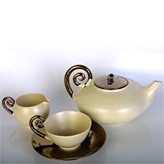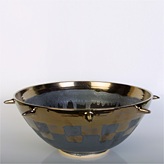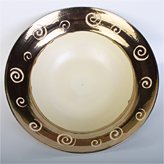 Burnt Earth Design ceramics are hand thrown and hand glazed with the result that no two pieces are exactly the same. A huge diversity of styles and decorating techniques from neo classical through to modern and na´ve, enables a limitless range of design possibilities.
Ceramics are fired to earthenware temperatures and are dishwasher safe but it is recommended that they are hand washed as one would with any other hand crafted product.
Burnt Earth designs also produces a wonderful range of floor and wall tiles.
A large range of products are available in store but special orders can be made to your own specification. Expect delivery time on special orders to be 3 to 4 months.